Black Friday
Receive a Black Recycled Plastic, Reusable Bag at the door, and what you can place in it is 25% OFF*!
* excludes optics, tripods, gift Cards, DSC memberships, current Sale Items, and previous purchases.
2018 Calendars are available!
The first one free! all additional calendars are $2.00

Many Varieties of Cylinders and
Hot Pepper

Cylinders too!
Includes Hot Peppered no mess, cranberry, and others.
---------------------------

APS Continues 'On Sale'

15% OFF

------------------------------------------------

November Specials




1) Seed Characters!

Buy one and a Flying Start feeder is free!





2) Colorful Peanut Feeders with Peanut in the Shell

15% OFF!

3)

20% OFF

any Hopper Feeder

4) Heated Bird Baths and your choice of stands are

20% OFF

5) All Outdoor Bird Baths and Fountains are

30% OFF too*.

Nature Label/Hat Pins

are now available

Only a few examples are shown.

Choice and Choice Plus Blends

============

Help Us Celebrate the store's

30 years!!

Join Us

November 10-12

For Fun, Prizes &

Treats!

DSC members!!!

Double Points Weekend

November 17-19

Celebrate our anniversary!!

Holiday Items are being placed on the floor now! Come see.

Anniversary Week is

also Double Points

Weekend for Daily

Savings Club

members!!!

November 17,18,19

Holiday Vases are back!!!!

Early bird gets the worm.

Madison, Wisconsin

8402 Old Sauk Road

Madison

608-664-1414

FaceBook: wbumadison

Twitter: wbumadison
A
All Hopper Feeders are

20%

OFF!

------------------------------------------------------------------------------

All Optics are on Sale*!

Yes, you read it right!

Binoculars and Spotting Scopes!

*tripods are excluded.
Daily Savings Club membership bonanza!
15% Off as you enjoy year around "+" an additional 5% when the seed is on sale! No one can match these prices for fresh seed!
Seminars are filling fast. Both seminars are full for 10am - openings for 11:30am CALL!! for a seat reservation 608-664-1414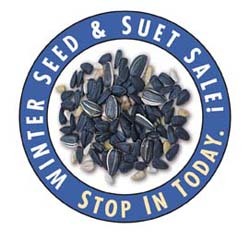 Daily Savings Club membership bonanza!
15% Off

as you enjoy year around "+" an additional

5%

when the seed is on sale! No one can match these prices for fresh seed!
Use our site list to the top left to find a listing of all articles within this website.
---
---
Hey! Seniors (62+)
Wednesday is your 10% discount day for any non-specially priced items!
-> 142+ species like it!
...preparing you for the best backyard bird feeding experience possible. At Wild Birds Unlimited®, our Certified Bird feeding Specialists™ are trained to show you how to turn your yard into a bird feeding habitat that not only brings song, color, and life to your home but also benefits the wild birds and the environment in your area.
WBU isn't just about selling birdfeeders and birdseed. We pride ourselves on being able to give you the most accurate information and knowledge about your local birds.
Based on more than 30 years of research and experience, our products have been designed to be the highest quality bird feeders and bird feeding equipment on the market today. We're so confident about our designs that many of our products carry a lifetime guarantee.
We're not only proud of our feeders though. We also have the freshest birdseed in town. Our exclusive regional blends aren't just fresh; they're specially formulated from 100% edible seed that the birds in your backyard will love.
It is our goal for you to have the best possible experience from your bird feeding hobby. Backyard bird feeding is the most relaxing, fulfilling, educational and exciting hobby that anyone, young or old, can enjoy.
At Wild Birds Unlimited, we aren't just a birdseed store. We are Your Backyard Bird feeding Specialist®, here to help bring you, your family and nature together.
Madison Audubon Society

(608) 255-2473

1400 East Wahington St

Suite 170 Madison 53703
Counter T
able