Bluebirds are on the way! Make sure you're ready...

Getting ready for bluebirds means spring is finally close. Our specials this month focus on high calcium foods for migrating birds, nesting supplies, and discounts on pole system hardware to welcome our friends back to Wisconsin!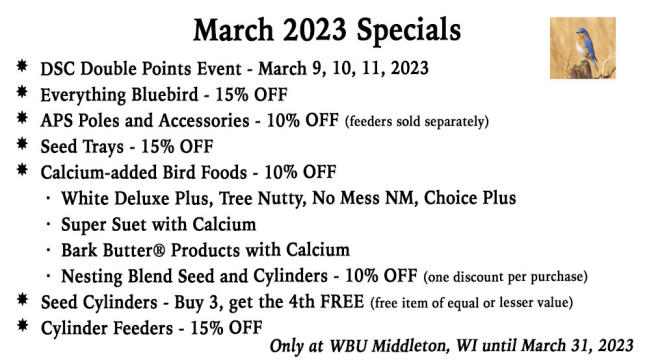 ----------------
We have a YouTube channel where our recorded seminars live for those who could not attend. Currently available:
Cranes of the World
Owls of Wisconsin
Upcoming is Steve Sample telling us all about how to pick the right binoculars for our needs.
Check it out and subscribe to receive updates! https://www.youtube.com/@wbumiddletonWI
----------------
Seminar Update
Upcoming Seminars
March 18 - Bluebirds - Led by Patrick Ready
April 15 - Gyrfalcon Seminar - Gyrfalcon - The Noble Hunter (live bird presentation)
April 29 - Hummingbirds - Led by Kathi and Michael Rock
All seminars are FREE and open to the public. They are at 10:00 a.m. on Saturdays, with an additional seminar at 11:30 a.m. if demand is high. All are held at 8402 Old Sauk Road. Space is limited to 25 per session so please call 608-664-1414 to reserve your spot.
----------------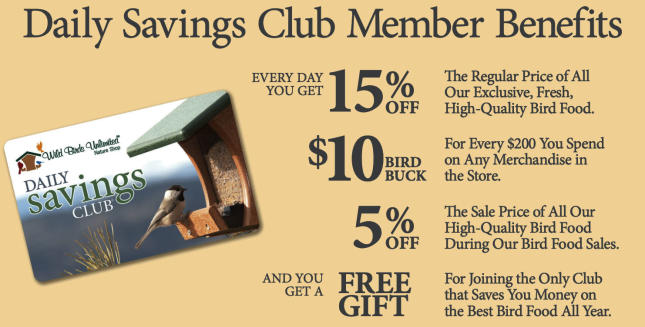 ---