TreeNutty Woodpecker Feeders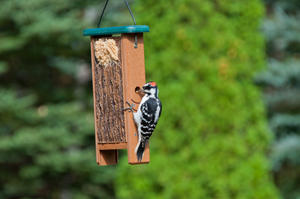 These two exclusive feeders were developed by Jim
Carpenter and are part of the Jim's Birdacious line of
products. We've combined a resin bark panel (like the one
on the suet sandwich feeder from BNP) ideal for Bark
Butter along with a hopper to create the ideal feeder for
woodpeckers. It is perfect for offering TreeNutty Plus
blend, Nutty for Nuts, Bark Butter Bits, peanuts or
any other blend or seeds. We have both a hanging
version and a tree mount version. The feeders are
made from recycled plastic and offer a lifetime
guarantee.