Discouraging Squirrels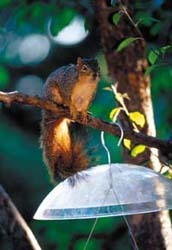 If you have squirrels, thake these simple precaustions to try to discourage them. Hang your feeder at least five feet (2.6 m) from the ground and eight to ten feet (3+ m) from the house of any tree limbs. If squirrels can reach your feeders, avoid allowing your feeders to become empty. A squirrel will (usually) not damage your feeder if it can get to the food. Take your feeders down when you are going away and won't be able to refill them when they become empty.
We offer a wide variety of handing and pole mounted baffles to deter squirrels from reaching your feeders. We also offer suet varieties and seed powders that squirrels find distasteful and birds are indifferent to their presence.



Ask one of us at Wild Birds Unlimited to help you decide which methods are best to keep the squirrels out of your feeders.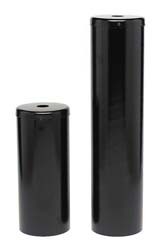 Squirrel (left) and Raccoon baffles.